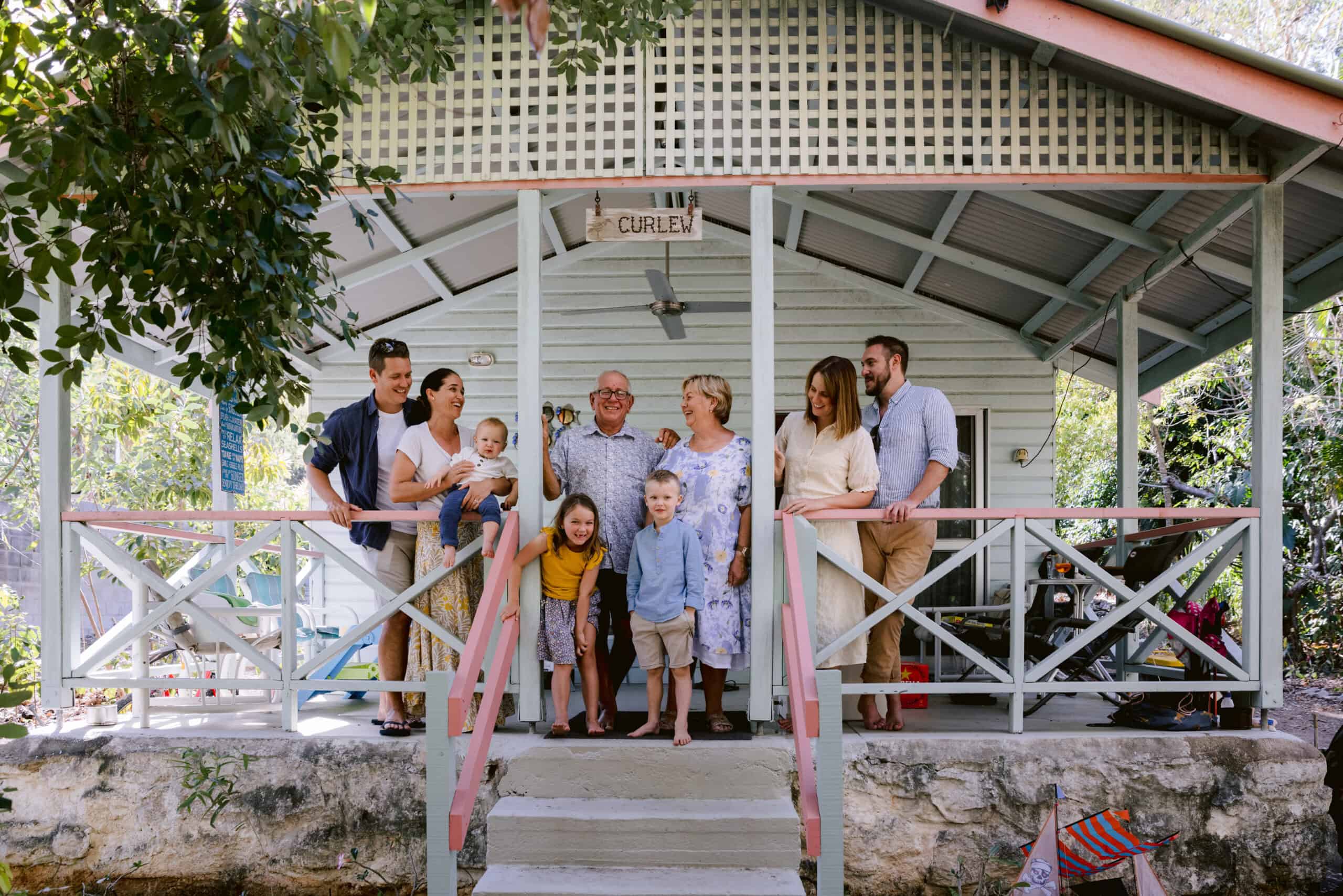 Travelling to Magnetic Island
Every time I travel over from Townsville to Magnetic Island for a family photo shoot, I feel like I am going on a mini holiday.
This particular afternoon was a little rougher (and busier) then the normal Ferry trip the island. I was very focused on not hitting my head on the pole that I had sat next to! As well as praying that no would need to use the sick bags, which I had never noticed before this trip. Knowing that if someone did it wouldn't end well for me!
Family Traditions
For this family it is a tradition that started long long ago. September school holidays spent at the Uncle Beach house on Magnetic Island. The family tradition was briefly interrupted as children became teenagers and then was quickly resumes again as the now grown children met their partners.
Fast forward a little further and now there is a new generation to start this tradition with all over again. These seemed like the prefect opportunity to create meaningful family photos.
Three rules apply when the family holidays at Magnetic Island.
Car windows down.
Ice Cream ever second day
Close the Esky!
When I arrived, I was met with a cup of tea and homemade Anzac biscuit. As well as Declan asking if I had bought brownies (which he had last year when they came to their newborn viewing). This kid makes me feel like one of the most wonderful people on all the world. This may be one of his gifts to all people, regardless I'm treasuring it for me.
Sweet Grace is close to her Aunty Sarah and is absorbing all the special Aunty time she can get. This is totally reciprocated by Sarah. Her adoration for her niece and nephews cannot go unnoticed.
Stephen relentlessly flew the kite or was trying. When I was growing up I don't think a kite ever returned from our trips to the beach. Always left tangled in a tree…the same sort of trees that lined Geoffrey Bay. For this reason, I appreciated all he went to in getting that pirate ship kite high in the air (probably more than the kids) and also allowing it to return home with them that evening for further adventures.
Stephen also was an absolutely champion when I suggest a little alcove area that he and Sarah stand in for a photo. It was as quick decision and I hadn't really taken notice of the waves that may come. Sure enough as they walked it the spot a massive (for Townsville) wave came and totally wet his pants! He was amazing!
Baby Darcy was teething. I sang many bad renditions of "Do the Propellor" and have probably wrecked it for every child and adult there! No better place to be with a teething baby then when you have many other loving hands to help.
Tony and Kate are gorgeous. They are the most beautiful calm, easy going team that contain so much warmth and joy. Second time in twelve months I have been able to photograph them and it exudes each time.
The Couple Who Started It All
Jenny and Danny, the couple who started it all. They are never far from their grandkids, but when they are not playing, cuddling or exploring they are watching on. I know that this time with all their family would fil their hearts like nothing else in the year.
While Danny and I were chatting, we realised that he actually knew my dad and that Jenny and Danny stayed in our Balgal Beach House a very very long time ago before they even had their kids. The same beach that we lost every kite to.