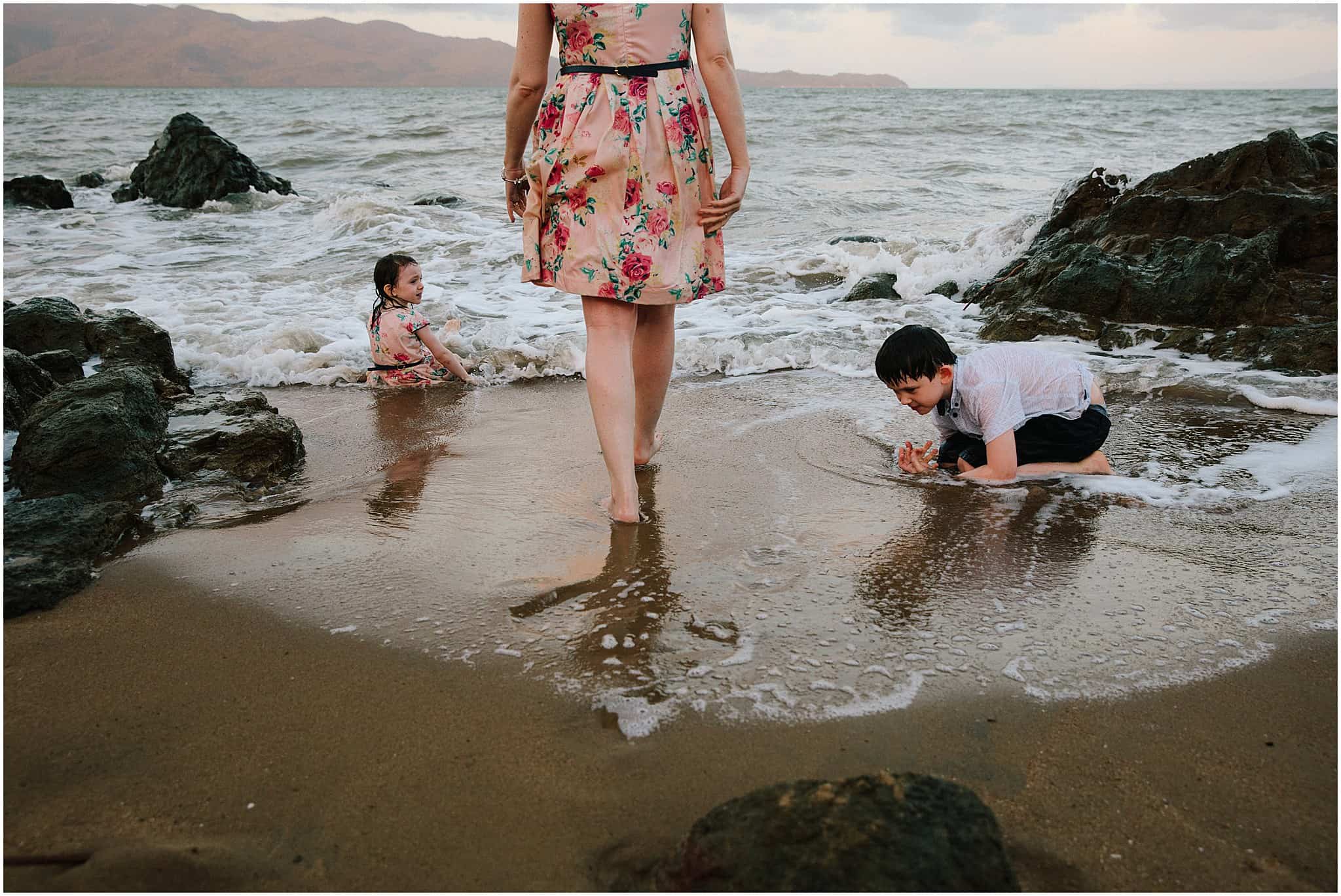 Initially the plan was a Mother and Daughter  photo session wearing special dresses with very significant meaning purchased on a very memorable shopping trip…then we thought the boys could join in as well. Well, sometimes works runs later and things are unavoidable which meant Joel was unable to meet us at the beach…Elissa was as calm about that as she was with her children scaling great rocks and everyone getting their best clothes soaked and sandy.
I was fully immersed in  my time with these three. I marvelled at the children's confidence as they explore and delighted in their achievements of rock climbing. But, I noticed something about Elissa that I am not so good at not doing…she never once said "Be careful" or "don't go there…you might fall". It was clear that these bright and brave children had been encouraged to learn their own limits and to only expect fantastic feelings once they had reached the top of the cliff…or at least it was worth trying for. I noticed Elissa's constant calm and gentle way. I am sure in amongst all their learning there has been countless times of Mum and Dad modelling the way.
In short, this beautiful Mum has had a big impact on me. Since that afternoon  I have been more mindful of the words that are coming out of my mouth.
These two children are sheer delight. Being with Timothy reminds me of the beauty of this age with my own eldest son. Evie is fiercely brave and so full of life. They both have their parent's kind and gentle souls.
We stayed until the last of the light…the cold didn't deter them…the awaiting party guests didn't make them rush…they were all totally immersed in the moment of all being together and with such freedom that I am certain that all three of them will remember Evie's 5th birthday forever.
Kind words from Elissa
Katie is an amazing photographer who I would highly recommend. She has taken photos for our family twice. On both occasions she has been so generous with her attention and time. Her sessions are genuinely relaxed and so much fun – and my children have come away saying Katie is their new best friend! Katie's rare ability to truly capture the beauty, emotion and essence of the people in front of her lens results in photographs that tell an individual and unique story that will be treasured. Thank you again Katie!