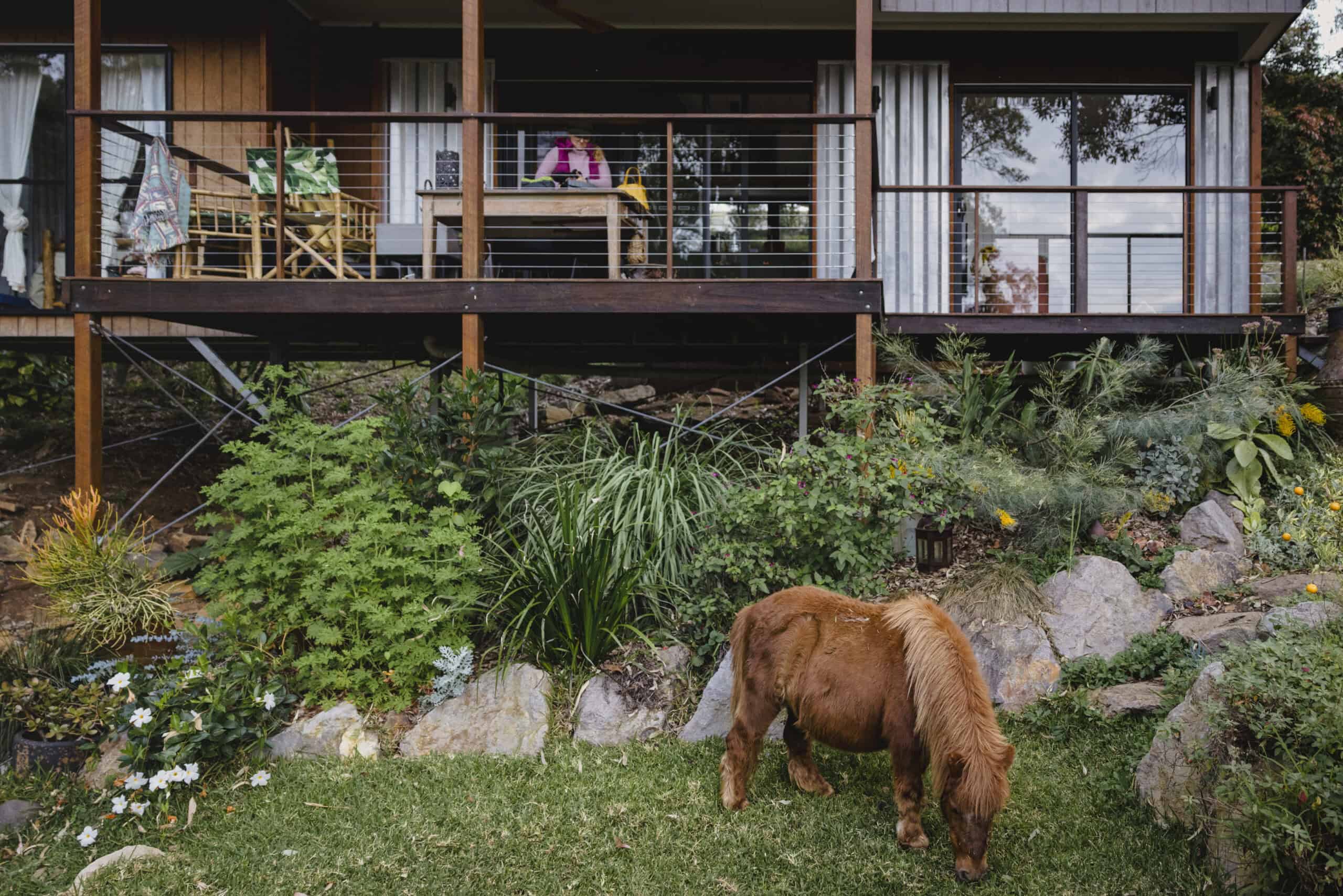 Staying at The Wilds Container Home
From the moment you enter The Wilds Container Home you feel like a friend who has been welcomed home. The stylish coziness of the cabin located just outside of Montville in the Sunshine Coast Hinterland  exceeds one's expectation in every way.
The warm welcome from Heidi complete with croissants and condiments packaged ever so beautifully in handmade pottery and wrapped butter with fresh lavender. Gertie the miniature horse welcomes you in a slightly different way…checking out what you may have to offer.
The Details
Everything is luxurious. The local selection of gourmet coffee and teas. The Bed Threads linen sheets and robes. The Pillows!!! One of the first things I did once I awoke was to remove the pillowcase and protector to look at what was the brand of this amazing pillow!!!
Heidi has gone to so much thought to make one's stay the ultimate luxury getaway. Complete with the most wonderful stacks of books, dvds and records. Everything is placed with thought and beauty, including the basket of pinecones intended for kindling the indoor fireplace.
The Wilds Container Home is designed to maximise space and functionally for two people. We were welcome to wander through the gardens, collecting herbs for our breakfast and using the fresh chicken eggs that had already been placed in our fridge.
The outdoor fire pit has fire wood and twigs in old metal buckets ready to use.   Making it a breeze to set alight and roast your marshmallows!
Gertie the Miniature Horse
Each morning I would wake up and look out our bedroom window to spot Gorgeous Gertie.  Excitedly, I would go off  to give her a morning snuggle (still wearing my sleeping socks) which she tolerated and I delighted in.
Our goal was a girls weekend away with luxury and adventure…and a whole heap of doing whatever we wanted. Such an extra bonus to have my own miniature horse for the weekend. This was such a perfect place to do it all. Including early morning runs down dirt roads where there were sheep looking up at you as you passed. Yep. This thrilled me!
Grateful
All this to say…you should make a plan to get away with someone you love to be with, at this incredible Airbnb.
Special thanks to my Super Star Friend, Elyse for being so willing to adventure with me and so constantly caring and driving big distances for pick up and drop offs…and helping me be brave photographing at the dam… but that's another story.  Oh!!!!! And for taking  Gertie and me photos!!!!!!!! Biggest gift x
You can follow The Wilds Container Home on instagram here.