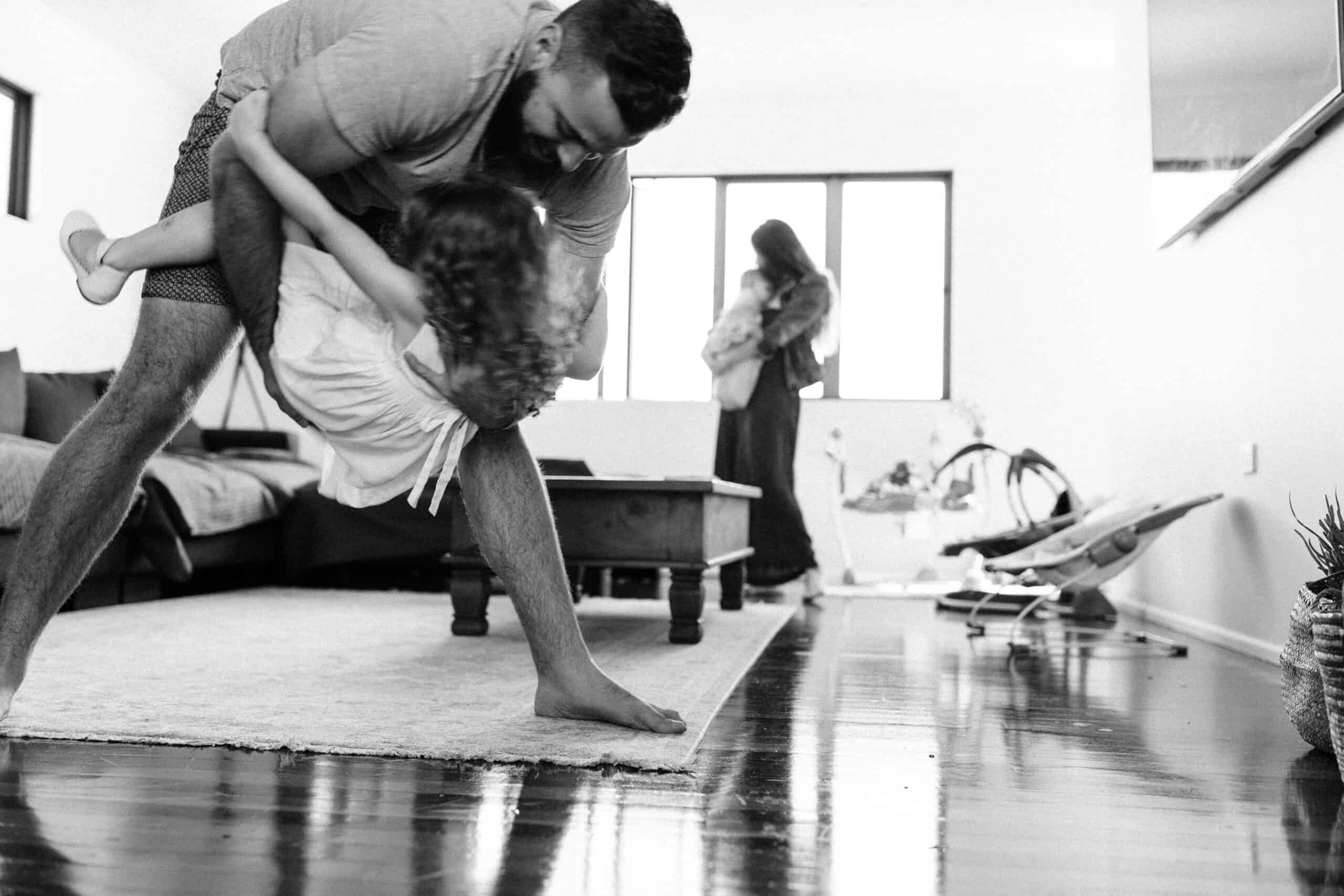 Family Photos with not quite a newborn
Originally Brandon and Casey had planned family photos at home while  Harvey was still a newborn. But as we all know sometimes life gets in the way of our best intentions and before you know it your baby is all smiles and giggles. Casey and I knew we needed to do some quick locking in of a Saturday date, which we did…and then…they all got colds. Flexibility is key at this stage of life and nothing was going to stop us finding another date to have their in home family photo session.
I arrived and was greeting by the brightest face peeping just barely over the widow from upstairs, adorning the brightest plastic crown you ever did see on a Saturday morning. As I walked into their lounge room Harvey's little face burst with smiles and continued to do so for most of our time together.
Pip sat on the kitchen bench and continued to ready herself applying  lip gloss that extended a little further than her lip. She then generously applied it to her Mum's lips as well before jumping off the kitchen bench and onto her Mum's back. The Sweet girl even offered to share her lipgloss with me!
The four of them snuggled on the couch. Pip and her daddy danced in the lounge. Pip bounced on the couch and then they all snuggled some more….and here is the evidence of two hard working parents (in very different roles but equally as challenging) turning up because these days matter and these photos mean the world to them…because of the ones in them.
Scroll to the very end to read how Casey felt on the day x
Words from Casey about their morning…
Well, it was Saturday Morning.. the morning of our photo shoot. And I was not feeling it. I had a really rough night of sleep with my baby so I wasn't in the right headspace. Not only that, but I had a messy house with dishes pilled up and things everywhere.

I was ready to just cancel the whole shoot. I thought, no… I've been waiting months for this and Katie is someone I can be completely comfortable and honest with. So this is going to happen. My husband and I done a quick clean up of the lounge room and we used what we had in that moment.

Katie was incredible. She pulled up, already taking photos of my beautiful girl looking through the window to her before she even walked through the door. Katie was so patient with us. Never once made us feel uncomfortable or judged with the state of our messy house.

I really didn't think I was going to get any good photos with me in them. Because, I wasn't mentally prepared for the shoot. I was overwhelmed by my house and just wasn't feeling great. But, Katie told us what to do and let us just do us and be comfortable.

I couldn't recommend her enough.

I learnt that I don't need to have a perfect atmosphere for the shoot, I just need to be there. I just needed to enjoy the moment because the little things didn't matter.. she worked around it.